The Gold Basin Project is a 40 km2 bulk-tonnage, oxide gold property in Mohave County, Arizona. The project comprises five mineral rights (2,389.34 acres) and 294 unpatented mining claims (5,280 acres), totaling 7,669.34 acres. A total of 74 new unpatented claims and an Option to Acquire additional claims has expanded the total land footprint to 40 km2.
The property is largely under-explored and contains multiple near-surface, oxide gold deposits. The two most significant historical deposits are named Cyclopic and Stealth.
Gold mineralization at Cyclopic is open in all directions, particularly at depth, with most drilling to date reaching only 90m. The Stealth Deposit is ~900m west of Cyclopic, with historical drilling showing significant gold mineralization that remains open in all directions.
A significant amount of historical drilling data was completed by previous owners and the project was fully permitted in the 1990s as an open-pit, heap-leach operation, though low gold prices meant that development did not proceed at the time.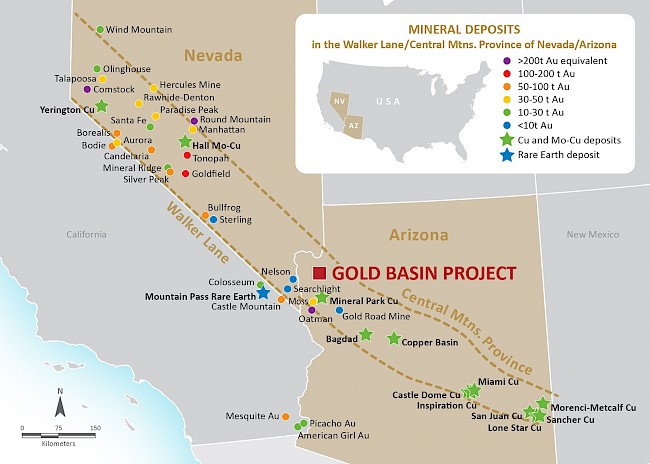 LOCATION & INFRASTRUCTURE
The Gold Basin Project is located within a major geological trend in NW Arizona in the USA, the transition zone between the highly prospective geology of Walker Lane and the southern copper belt.
The project is easily accessible by major highways to all sites using pre-existing access on site and is served by hydroelectric power direct from Hoover Dam. The project is located 1.5 hours from the mining hub of Las Vegas.
HISTORICAL, SMALL-SCALE MINING SITES
Gold Basin completed a property-wide LiDAR and aerial photography survey, and to date identified over 230 sites of historical, small-scale mining sites, including small shafts, adits and pits. The vast majority of these sites have no records of drilling or modern-day exploration.