The 100% owned Cyclopic Deposit consists of multiple, vertically stacked, broad sub-horizontal zones of gold mineralization from surface to 90m depth. Cyclopic exhibits strong geological continuity, featuring a flat, continuous, oxide system with potential for an open-pit heap leach operation.
Historical drilling identified a 1,650m x 650m area of gold mineralization at Cyclopic that is largely untested outside the historic strike extent, presenting a high-priority exploration target.
The Company has established the presence of multiple vertically-stacked, sub-horizonal and laterally-extensive mineralized fault zones associated with higher-grade mineralization separated by 30m to 40m-wide zones of lower-grade mineralization.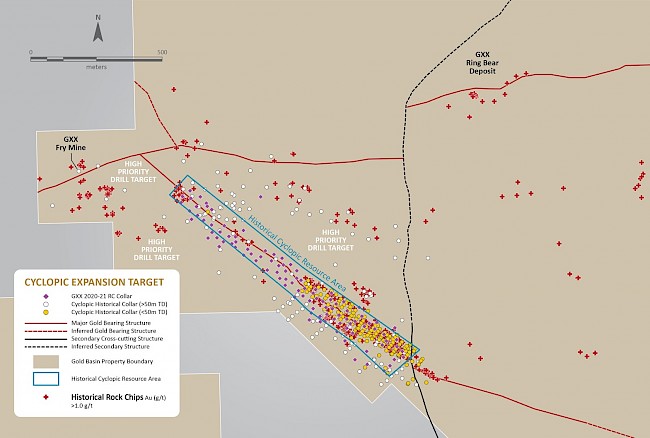 Exploration
Gold Basin completed a 10,000m, 100-hole drilling on the project in May 2021, with initial targets designed to expand the known mineralized area at the Cyclopic Area of the project.
Phase I drilling established broad zones of flat-lying gold mineralization over a 1,500m x 650m wide area at the Cyclopic in sub-horizontal detachment faults, with higher-grade gold mineralization in cross-cutting vertical structures.
Phase I results include:
24.4m @ 1.38 g/t Au from surface
18.2m @ 1.62 g/t Au from 3.1m
18.3m @ 1.34 g/t Au from 16.8m
15.3m @ 1.01 g/t Au from 21.3m
4.6m @ 1.29 g/t Au from surface
Phase II 110-hole, ~12,000m drilling is currently underway to follow up on the excellent results from the Phase I program. A total of 60 reverse circulations (RC) holes, totalling 7,018m have been completed since February 2022 – 35 holes at the Cyclopic Deposit for 3,277m.
Phase II results include:
6.1m @ 7.9 g/t Au from surface
4.6m @ 2.4 g/t Au from surface
13.7m @ 2.2 g/t Au from surface
Mineralized structures
The company recently completed 3D modelling that confirmed and extended the mineralized zones previously identified in historical drilling, enabling the Company to construct a detailed 3D model of the flat-lying mineralized "layers" that form the Cyclopic deposit.
The model established the presence of multiple vertically stacked, sub-horizontal and laterally-extensive mineralized fault zones associated with higher-grade mineralization.
Both sections below show the gold mineralization starts at or near the near-horizontal surface topography. The layers are stacked on top of one another and extend down to 90m, the extent of current drill coverage.
The majority of the historical drilling averaged only 50m in depth, so a large portion of the deposit remains open at depth and in all directions.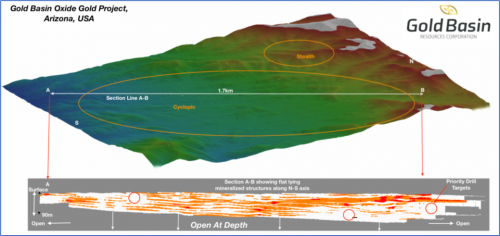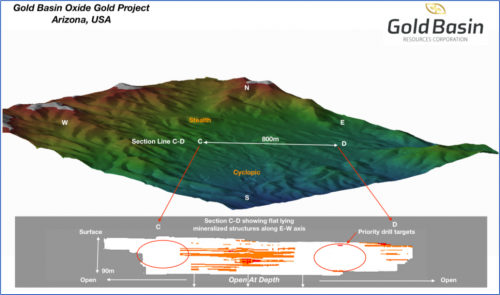 Distribution of Gold
The Cyclopic detachment fault is the most dominant structural feature in the Gold Basin district and is presently thought to be the primary district-scale control over gold mineralization.
Gold grade and distribution at Gold Basin are primarily controlled by this structure, specifically the series of near-horizontal detachment fault planes cutting the Precambrian gneissic basement.
Based on the drill data, at least four separate detachment planes occur within a package of stacked shears with an aggregate thickness of about 200m.
Gold mineralization is the result of a low-sulfidation and shallow epithermal depositional system. Sulfide is recorded in several holes but is typically not present above depths of 100m to 200m.
Alteration products consist of hematitic clay and silica, although carbonate veining/alteration in several holes at Stealth is associated with the highest-grade drill intervals and may be indicative of boiling.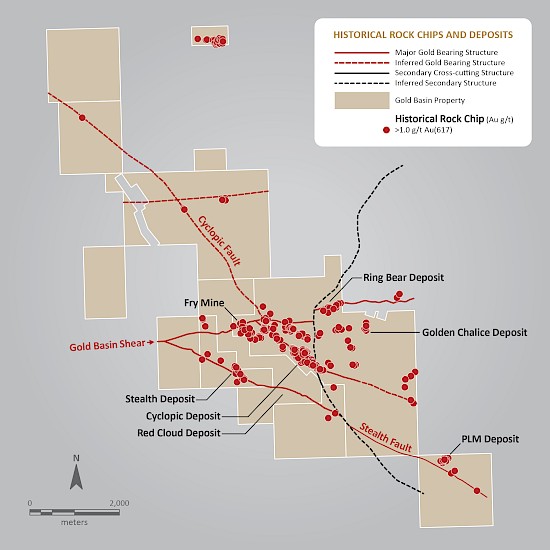 Geology
Bedrock in the project area is primarily comprised of Precambrian gneiss and rapakivi-like granite, and a Cretaceous two-mica granite.
Intruding the gneiss is a rapakivi-like granite that contains large (up to 5cm) pink alkali feldspar phenocrysts in a matrix of quartz, hornblende and biotite.
The Precambrian and Cretaceous rocks are both cut by the Cyclopic detachment fault.
The Cyclopic detachment consists of at least two low-angle normal faults that strike northwest and dip generally less than 20° southwest.